Galaxy Z Flip4 takes over the Marriott in Warsaw in the latest Samsung campaign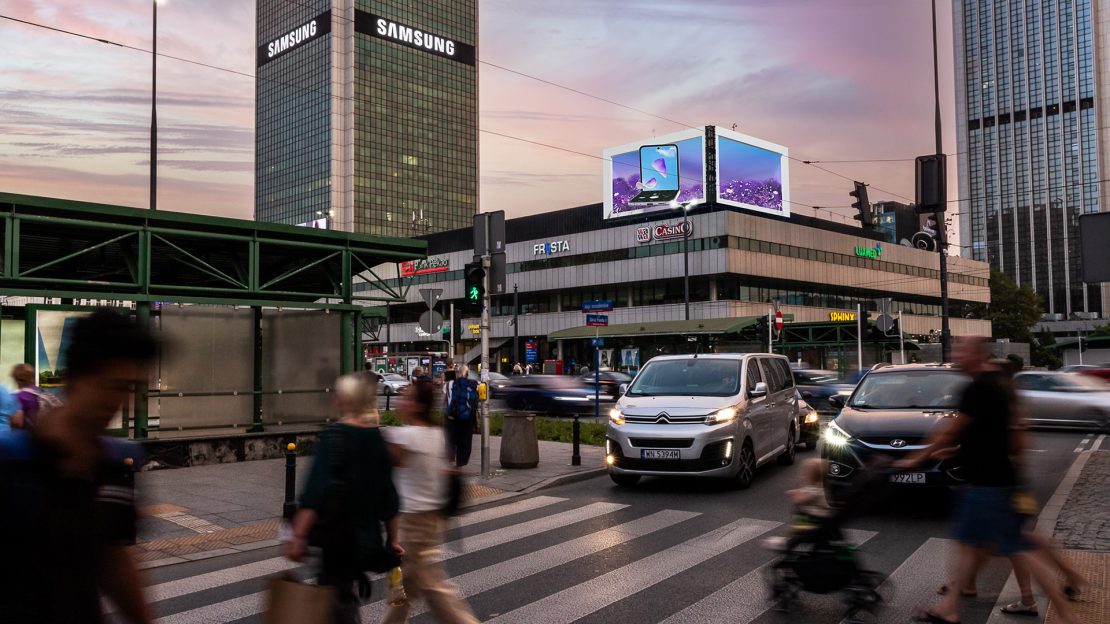 Samsung returns with a new 3D Digital Out of Home formatted campaign in the centre of the capital with the premiere launch of its latest folds.
On August 26, the latest folds – Galaxy Z Flip4 and Galaxy Z Fold4 debuted on the Polish market. As part of the campaign promoting new members of the Galaxy family, Samsung has once again opted for the 3D Digital Out of Home format. From August 26 to the end of September, on large-format screens on the Marriott hotel building at Al. Jerozolimskie in Warsaw, you will be able to see a unique creation, starring the new Galaxy Z Flip4.
Folds provide unprecedented freedom of action and self-expression. We assume that everything that surrounds us should bring joy and we clearly show it in our latest campaign. The premiere devices are beautiful and undeniably delightful. That is why they fit perfectly into non-standard formats such as 3D DOOH

– says Magdalena Sielachowicz-Nowakowska, Head of Marketing of the MX division at Samsung Electronics Polska
The unique 3D Digital Out of Home creation promoting the latest Galaxy Z Flip4 and Galaxy Z Fold4 smartphones was created in cooperation with the creative agency VMLY & R, Screen Network and Platige Image. It was produced with the use of large Screen Network screens located on the roof of the Marriott hotel in Warsaw. The campaign uses the anamorphic 3D effect, which gives the illusion of three-dimensional depth on a flat surface, thanks to which the key player of the spot – Galaxy Z Flip4 gives the impression that it even goes beyond the screen surface.
This type of creation is extremely dynamic and engaging. The 3D DOOH format is the future of outdoor advertising because it changes the relationship with the recipient as it is impossible to go by without noticing it.

– emphasizes Agnieszka Godlewska, President of the Management Board, Screen Network
This is the next installment of the 3D Digital Out of Home campaign, carried out together with our partners for the Samsung brand. Ads in a three-dimensional format are a novelty to the Polish market, which works very well in the promotion of innovative devices

– says Karol Żbikowski, CEO of Platige Image
Galaxy Z Flip4 and Galaxy Z Fold4 are the latest folds – smartphones with a unique design that offer users completely new possibilities in terms of creativity (Flex Mode) and multitasking compared to classic smartphones.
The latest Samsung 3D Digital Out of Home advertisement can be viewed until the end of September in Warsaw on the corner screens located on the roof of the Marriott hotel on Al. Jerozolimskie.
The 3D materials were prepared by Platige Image. Screen Network is responsible for the implementation of the campaign.